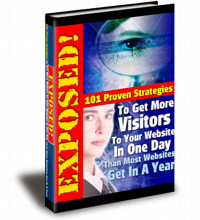 EXPOSED!
101 Proven Strategies To Get More Visitors To Your Web Site In One Day
Than Most Web Sites Get In A Year
At last! You now have the opportunity to discover all the101 effective traffic ideas in one complete and unbiased ebook.
But don't take my word for it. Here's what people who have read EXPOSED! are complimenting about this new ebook.

"Richard, No hype here! I wish I had this ebook when I first started out online. As a seasoned marketer I can honestly say I only knew of 20% of your methods. I shutter to think what will happen when I apply the other 80%. I have placed this ebook right in my desktop to use as a daily resource library to take my marketing to the next level. I can easily say that this is the most informative book I have ever read on generating an avalanche of traffic to your website. Well Done!

Click to listen to Mike

Mike Filsaime, Owner
www.dont-touch-my-ads.com
The information you provide is always top-quality, and gives people directly what they are looking for.

My subscribers are always asking me how they can get more traffic for their web sites - now, at last, I can point them towards a highly effective resource that tells them quite simply everything they need to know about exposing their web site.

Personally, I receive over two million hits a month to my web sites, and I couldn't find a single technique that I use, that you don't comprehensively describe in your book - plus I found plenty of new techniques
I can now put into practice.

In my opinion, it is an essential resource for anyone wishing to get more exposure for their web site.

Best regards

Steve Shaw
Technical eMarketer
http://takanomi.com
"Not another Internet marketing book! That's what I thought when I received this one. To be polite, I started reading it. But then I couldn't stop! I'm considered an Internet veteran, but this gem contains some things even I didn't know. Excellent value. Get it."

Joe Vitale, #1 Best-Selling Author - "Spiritual Marketing"
www.MrFire.com
I just had to write and say "Wow!"... what a great collection of strategies to get visitors to your website. If people would do just a few of your suggestions they would easily get a ton more traffic to their site. If they would follow your Top 12 suggestions, they would get more traffic than 99 percent of all websites in the world. Great job putting together all these great tips and resources in one easy-to-read manual.

Mark Hendricks
Publisher/Author/Consultant
Joint Venture Specialist
http://www.hunteridge.com
Congratulations on your 4th e-book, you've done it again!
This e-book is great for anyone whether you're just starting

out or you're an old pro looking to generate more traffic to your website. There are tons of great resources to get lots traffic from in this e-book

I picked up some very useful tips on search engine optimization and ways to get more visitors to our sites. Well done!

Warm Regards,
Jeremy Gislason
www.ISORegister.com
I know that you're probably still skeptical and a bit on the conservative side, but think about this – if you keep doing the same things over and over again – you'll probably only succeed in getting the same results. That's why I want to let you try out the 101 traffic generating strategies – completely and totally risk-free!
(I'll tell you about my unique guarantee in a moment)
You don't know how much I wish I could have had all this valuable information when I first started out. You are fortunate to have this valuable resource at your disposal.
Which of these Powerful Web Site Traffic Generating Strategies could you use within the next 10 minutes to explode your hit counter?
Search Engines. You'll learn how to optimize your targeted keywords to get high ranking in the search engines. You'll discover what are the tools and resources that you could use to boost your search engine ranking.
To view some of my sites ranking, CLICK HERE.
Pay Per Click Search Engines including GOOGLE AdWords. You'll learn how to choose the 'right keywords' and the various ways to optimize your CTR (Click Thro' Rate)
Aggressive Linking Strategies. You'll discover how link exchange can boost your search engine ranking and drive FREE Targeted Traffic to your web site. You'll learn the truth about LINK POPULARITY. You will be shown how to set up your link page and source for LINKING PARTNERS. You'll be provided with tips on what 'software' and resources you can use easily to improve your GOOGLE link status.
Affiliate Program and Joint Venture. You'll discover how to use affiliate program and joint ventures to drive targeted traffic to your web site. You'll be shown the various ways to set up a joint venture to build a 'life time' friendship and RAPPORT.
Opt-In-List. You have often heard that 'The Money is in the List'. You'll learn how to set up a simple system to build your list in no time.
Email Marketing. In view of the current legislation on SPAMMING and the massive filtering of emails it is important to know how to effectively use email as a traffic generating tool. You'll learn how to use email as a means of directing readers to your web site and avoiding any SPAM complains.
Rapport. Anthony Robbins said that 'the quality of your life is the quality of your COMMUNICATION'. This is the razor edge difference between success and failure on the Internet and you'll find out how to build rapport, trust and credibility.
Viral Marketing. HOTMAIL used this strategy successfully to build their massive data base. You'll learn how to use this viral marketing strategy to generate massive traffic to your web site while you SLEEP!
Custom Error Pages. Learn how to use the '404 Error' to drive traffic to your web site. You'll be provided with the script to implement this strategy.
Traffic Generating Programs. You'll be introduced to some of the best traffic generating programs on the Internet. All of these programs can drive tons of free traffic to your web site.
Offline Promotion Techniques. These techniques are simple to implement but are usually ignored by Internet marketers. Be ahead of the 'crowd' by implementing strategies like SMS, and utilizing the news media.
Tools and Resources. You'll be introduced to the tools and resources that you'll need to attract hoards of traffic to your web site. Some of these useful tools are included as Free Resources in the ebook - more than 20 amazing web tools. You'll be provided with the download links in the ebook.
These are only a handful of the 101 strategies that are revealed in 'EXPOSED!'. You've just got to read the rest. It's simply mind boggling!
What an excellent e-book... I'm amazed... "101 Proven Strategies To Get More Visitors To Your Website In One Day Than Most Websites Get In A Year" is THE bible of generating targeted traffic to any website in any industry.

I will definitely recommend it to all my partners and customers as a professional resource of information.

Kind Regards
Roy Oron
President/CEO
www.makelinks.com
If you want to jump-start your web sites success (and I mean really BLAST it into orbit!) then do yourself a favor and grab yourself a copy of Richard Quek's 'EXPOSED! - 101 Proven Strategies To Get More Visitors To Your Website In One Day Than Most Websites Get In A Year. In this ebook you'll discover many powerful tips and strategies to skyrocket your traffic!

Michael Rasmussen
BulletProof Marketing, Inc.
http://www.bulletproofmarketing.com
Sometimes we use the titles for attracting the attention. This is not the case with Richard's ebook. When he says about the "101 Proven Strategies To Get More Visitors To Your Website In One Day Than Most Websites Get In A Year" he means exactly the 101 ways from 1 to 101 mentioned to his ebook.

I can assure you this ebook will be your starting point when promoting your site; whenever I want to check for more ways to expose my sites (that means: to get more traffic, sales and subscribers) I just open Richard's ebook and "Voila! Another one is found!" - Great job, I highly recommend it!

John Delavera
http://www.software4profit.com
WOW! Your EXPOSED! book is AWESOME. I get over 300,000 visits to my sites every month, but just the resources on page 38 could easily add tens-of-thousands to that number over the coming year. You have put together a resource ANYONE could use to pull in a TON of PROFITABLE TRAFFIC.

Do me a favor--please don't sell this to my competition!

Kevin Bidwell
All-In-One-Business.com
I confess I was somewhat skeptical about reading yet another ebook about how to drive traffic to my web site. I fully expected it would simply be a list of URL's where I could submit my site.

Wrong! I was more than pleasantly surprised that not only have you included the URL's, but you've explained thoroughly all the how's, when's, where's and why's of traffic generation.

Well done! I'd recommend 'EXPOSED! – 101 Proven Strategies To Get More Visitors To Your Website In One Day Than Most Websites Get In A Year' to anyone who wants MORE traffic.

Cheers,
Rosalind Gardner
http://SuperAffiliateHandbook.com
Richard Quek, you've out done yourself this time! Your books are always right on target! 'Exposed! 101 Proven Strategies To Get More Visitors To Your Website In One Day Than Most Websites Get In A Year' is your best yet!

As the owner of an Internet marketing affiliate company, our members are constantly begging for new ideas on driving traffic to their sites. You've just made our job simple! We only recommend quality resources and yours is at the top of our list! If our members read your book, we'll
all be laughing all the way to the bank! Thank you!

To Your Success!

Tracy & Patrick Monteforte
Founders/Owners: WTPowers, LLC
http://www.wtpowers.com
Here are some of the immediate benefits that you'll receive from EXPOSED!
Get top rankings in major search engines such as GOOGLE, YAHOO, ALTA VISTA and MSN. Discover how to optimize your targeted keywords using BASIC RANKING Strategies.
Stop wasting your time and money on expensive and ineffective traffic strategies. Discover which are the top 12 traffic generating strategies?
Get targeted traffic to your web site. Visitors who are looking for your product or service...who are ready to buy, if only they know what you're offering!
Find out what are the tools and resources that will automate your traffic generating task. Some of these are included as Free Resources in the ebook.
Revealed! All 101 proven traffic generating strategies from one source
EXPOSED!
I'm impressed.

I expected to open up your book and find a list of "quick tips", but you've really gone into depth on exactly how the average Joe, even with little or NO money, can begin generating tons of web-site visitors in a very short period of time...

So I'd say to others, if you're looking for proven, effective ways to advertise online (and who isn't?)
- grab a copy of Exposed today!

Bryan Winters
http://www.pushbuttonpublishing.com
Being an online marketing consultant for many online start ups and international companies, I seriously consider your ebook " 101 Proven Strategies To Get More Visitors To Your Website In One Day Than Most Websites Get In A Year" a permanent reference for anyone and I say anyone who is interested in getting voluminous traffic and sales, and hey, that would mean everybody!

Richard, you have just been listed in my very private and exclusive "hate list" along with other online marketing greats, Terry Dean, Corey Rudl, Jay Abraham and all other visionary people.

The ebook as I reviewed it, made getting traffic as simple as 1, 2, 3. More like, oh what traffic-go-getting strategy will I do today? Hmm..let me take a look at page.....!!
It is easy to navigate through it and it works perfectly like an online marketing bible that it is! Kudos! And again, I hate you since I'll definitely be out-of-work!!!

Maida Martillano-Barrientos, The Guidant a.k.a. Little Princess a.k.a.

The Online Marketing Guru Hater
http://www.talkingprofits.net
Hi Richard: I am truly impressed by your new eBook-- EXPOSED! – 101 Proven Strategies To Get More Visitors To Your Website In One Day Than Most Websites Get In A Year.

I could not keep from going from page to page gleaning all the treasure tips that you have put inside this one resource. If ANYONE wants to learn how to get traffic to their site from all areas of the web, they should read your book. I'm not kidding. You provide an easy-to-read, unbiased review of the absolute best resources for webmasters anywhere to be found.

"Thank-You" for taking the time to write such a useful book. To anyone reading this review--You should buy this book...the exposure you will receive for your site from taking action on the information contained inside will pay for itself many times over!

Sincerely,
Lamar Owens
Founder/Traffic For Webmasters
http://www.trafficforwebmasters.com
Your new Book "101 Proven Strategies To Get More Visitors To Your Website In One Day Than Most Websites Get In A Year" is totally amazing!!!

To continue my success online I am always looking for new ways to promote my website LittleknownMoneyMakers.com where I expose for free, the little known, often secret, off-the-beaten path, unusual, fun and exciting ways thousands are doing to make money online and offline...

Well I've just finished reading your book from cover to cover and all I can say is Wow!!! Thanks to you, I no longer need to look anymore!

You list so many great ideas and stategies including plenty I have not known before until now, thanks to your excellent book!

Richard, I highly recommend to anyone looking for ideas and ways to promote their website, product or service and/or to increase their online sales and website traffic to get your book and start testing and implementing these 101 ways ...

This book is a real gem!

Mason Ramm
Brisbane, Australia.
http://www.LittleKnownMoneyMakers.com
I just finished reading through "101 Proven Strategies To Get More Visitors To Your Website In One Day Than Most Websites Get In A Year" and I think you've hit the nail on the head to one of the questions that I am repeatedly asked. "Do you know any ways to get traffic to my web site for free?"

Many of the tactics that you've covered in your ebook are free and only require a bit of work to setup. There's even a few that I didn't know about, so your ebook is value for newbies and experience marketers.

To have 101 strategies outlined in detail in one handy location to refer to is an excellent resource and good value as far as I'm concerned! I recommend it highly to anyone who wants more exposure for their web site.

Warm regards
Eva Browne-Paterson
Editor/Publisher EvieB's New-Z
http://www.evieb.com
Okay, so what's the cost for this Incredible Resource?
Well, realize that this ebook could easily sell for $197.00. In fact if you asked any top Internet marketer to produce this ebook for you, you'll probably be charged in the neighborhood of $137.00 to $297.00.
I currently charge a minimum of $1,500.00 per person to attend my 3 day TIMM Super Seminar. So at bare minimum you're getting thousands and thousands of dollars worth of information and resources at your disposal.
But I'm not going to charge you anywhere near that amount or even my minimum project price. In fact, your total investment for EXPOSED! – 101 Proven Strategies To Get More Visitors To Your Web Site In One Day Than Most Web Sites Get In A Year is ONLY $97.00. (Please read on for my limited time offer)
So what's the catch? Why am I practically giving this resource away?
Well, it's really quite simple. From my personal testimonial that you read above, you know that I started my Internet marketing career on the wrong footing with no one to assist and advice me. I have learnt it the hard way – from the school of 'hard knocks'. Therefore, I do not want you to wander through the same path. I want you to 'copycat' the proven traffic generating strategies that other Top Internet marketers and myself have been using successfully.
To sweeten the offer here are EIGHT FREE Bonuses for you when you Order NOW!
---

BONUS # 1
How to become a Joint Venture Marketing Master. This ebook is authored by Jason Mangrum and reveals all the various strategies to succeed in any Joint Venture.
Valued at $67.00
---

BONUS # 2
Hot Mini Sites. This ebook will show you how to create killer mini-site that sells like crazy.
Valued at $39.95
---

BONUS # 3
The Traffic Jam Formula. One of the best books on getting traffic to your web site.
Valued at $49.95
---

BONUS # 4
Achieving Lift Off. This ebook covers the overall strategies on setting-up and running your online business.
Valued at $29.95
---

BONUS # 5
The Embarrassing Simple way I grabbed the # 1 position on GOOGLE, YAHOO & AOL. The title of the book says it all - learn how to get top ranking in the search engines.
Valued at $19.95
---

BONUS # 6
Million Dollar Email. This ebook reveals to you the Greatest money making emails of all time.
Valued at $19.00
---

BONUS # 7
Perpetual Traffic Generator. Learn how to generate Free Traffic to your web site while you sleep.
Valued at $49.95
---

BONUS # 8
Confidential Internet Intelligence Manuscript. This report is the result of Mark Joyner's hard core Scientific Research.
Valued at $97.00
---
Together these 8 free bonuses are worth $372.75. But they're all yours absolutely free with your order.
Oh! Before I forget…. there are more than 20 other downloadable ebooks and softwares that are included in the ebooks that are yours for the taking. These are valued in excess of $400.00 and all yours for free with my compliments. I have also included my special report on, 'You Too Can Write A Book'. This report will reveal to you the misconceptions that hold YOU back from writing your own book. In it I share my own personal testimony on how I managed to author 4 books within a period of less than three years. This story will surely inspire you to make a CHANGE in your Life!
100% Risk-Free Guarantee
Your success in using the ebook, EXPOSED is completely guaranteed. In fact, here's my 100% Better-Than-Risk-Free-Take-It-To-The-Bank Guarantee:
I personally guarantee that if you seriously implement some of the traffic generating strategies provided in the ebook you'll definitely increase the amount of traffic to your web site within the next 7 days.
If within 90 days, you honestly believe I haven't delivered on this promise then let me know and I'll issue you a prompt and courteous refund. Plus, the free bonus gifts are yours to keep regardless, just for your trouble.
Is that fair or what?
That means you can try out all the 101 traffic generating ideas at my risk, while you see if they work for you or not. And if they don't produce results, I honestly want you to ask for your money back. And I'll let you keep the free bonus gifts as a way of thanking you for giving EXPOSED! a try.
There's absolutely no risk whatsoever on your part. The burden to deliver is entirely on me. If you don't produce the increased traffic to your web site using the strategies in the ebook then I'm the loser, not you.
Look at it this way - $$97.00 is really a painless drop in the bucket compared to the money and time you're going to waste on ineffective traffic generating ideas that you're currently using this year. That's why…
You really Can't Afford Not To Invest In 'EXPOSED!' – 101 Proven Strategies To Get More Visitors To Your Web Site In One Day Than Most Web Sites Get In A Year.
BUT HOLD ON!
Here is my limited time OFFER
For the next 250 orders that I receive I'm giving a further discount of $50.00. That's right - you'll only need to pay $47.00 instead of the announced $97.00. That's an immediate savings of $50.00.
There's only one small catch. This offer is only limited to the next 250 orders. I cannot guarantee you how long these 250 units will remain. After that the price will revert back to $97.00. I'm sorry if you miss out…so hurry!
Get ready to Explode your Traffic and Increase your Cashflows.
So if you are ready to make a change here is what you need to do.
---
(check the box for your Instant Rebate, then click "Order Now")

Give me my $50.00 Instant Cash Back Rebate.
YES! I would like immediate access to the ebook, 'EXPOSED!' 101 Proven Strategies To Get More Visitors To Your Web Site In One Day Than Most Web Sites Get In A Year, so that I can learn how to increase traffic and explode my sales.
I understand that I'll receive the ebook in PDF format within the next 5 minutes.
I also understand that I am entitled to the promotional price of $47.00 and that my purchase is subject to a 90 day 100% Unconditional Money Back Guarantee.
To get your copy of EXPOSED!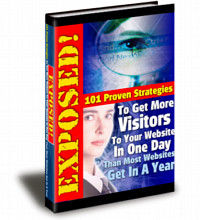 Click below
(It does not matter if it is 2.00am in the morning!)
Please do not miss out on this offer. This is NOT a sales gimmick at all. Here are some of the important issues you need to consider if you do not place your order now:
I know that you are a person of wisdom and will make the right decision!
Thanks for your precious time and may I take this opportunity to wish you meaning in your life.
Sincerely,
Richard Quek
P.S Just think! You'll never again have to suffer through the pain and hassle of having to deal with the lack of traffic to your web site.
P.P.S You are getting the 101 traffic generating strategies for ONLY 46 cents per idea.
P.P.P.S You get all the free bonuses valued in excess of $372.75. This excludes the 20 Free Resources contained in the ebook.
P.P.P.P.S You have my 100% 'Iron Clad' money back guarantee.
Here are more endorsements for EXPOSED!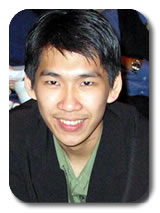 I wish I had read your ebook, 'Exposed' when I first started Internet marketing. If I have read your book, it will definitely save my months of research and money from buying all sort of Internet marketing ebooks.

In addition to providing useful traffic generation ideas in your ebook, you have also revealed tons of tools and software that can be found on the internet for free!

I'm sure your ebook will be a great value for all internet marketers.

Regards,
Patric Chan
http://www.internetmarketing-tactics.com
---
I think the book is very informative and well written. It explains
everything in laymens terms, yet has enough info jam packed for even the greater than great internet marketers to learn a thing or two.....
what else can I say......well done!!
Joel Therien
President Kiosk.ws
---
I got your ebook today, and printed it out. I had planned on reading it during the weekend. I started reading over the first few pages - but couldn't put it down. After about 10 minutes, I gave in, got my highlighter and started to mark it up. I ended up reading the whole thing today.

Not only was it fun to read - I picked up a few new "ideas" to help promote my websites. From now on when people ask me how to get visitors to their websites, I won't hesitate to tell them that your ebook is the source that will quickly teach them how.

Russell Brunson
www.ZipBrander.com
---
"Richard, your newest book is a masterpiece. You've gone WAY beyond mere 'traffic generation techniques' and have actually revealed ALL of
our secrets to generating massive amounts of traffic to ANY site. From now on, when my clients ask how to get tons of traffic to their sites,
I'll BUY them a copy of your book."

Jason Mangrum,
CEO - Make Marketing Easy
http://www.MakeMarketingEasy.com
---
Outstanding book you have written, but I would change the title. 101 Ways--Ha! I would say 101 times 10 at the minimum. You could probably call it Unlimited Ways to Expose Your Site as I kept finding new services and resources I had never heard of or thought of. This book really gave me some great ideas and anyone who wants to not only get more traffic, but learn to think outside the box needs to read your book. Running 7 different websites does not give me a lot of time, but your book is the first one I have read through in many months and I will be going back to read more. Thanks again for a truly outstanding book.

Regards,
Darryl Graham
President,
ISORegister, Inc.
http://www.ISORegister.com
---
My goodness Richard! What a outstanding Ebook! I thought It was just
going to be the same old read that everyone has but I can tell just
from the first few pages that this is a outstanding piece of Information! Congrats on a job well done! This new ebook needs to be at the top of the best sellers list for all internet marketers alike.

Damon Smith
Editor,HaileysComet Weekly News
http://www.haileyscometweekly.com
---
Marvellous job, Richard!

Your new book is an amazing source of marketing possibilities, tips and ideas perfectly reviewed and summarized in one place.

I definitely recommend it to every online marketer seeking after effective exposure for their business!

Irena Whitfield, Internet Business Consultant
http://www.thecassiopeia.com/
---
"Exposed is truly an exceptional library of traffic generating resources that makes you want to dig in and get busy on the spot. From minute one, you'll find the easy to understand applications with absolutely no hype to wade through. I highly recommend Exposed to anyone who wants a no-nonsense solution for non-stop traffic."

Gloria Metzler
E-brokebusters Treasure Box
http://www.e-brokebusters.com
---
Wow. Richard, you created a valuable resource. I have read a lot of marketing ebooks in the last 3 years. Yours is the encyclopedia of traffic generation. It is full of fresh, useful information with out fluff. I can tell that you put a lot of time, effort, and thought into it.
Thank You.

Albin Dittli

http://www.the-home-business-center.com
---
Richard, Exposed! is one of the most comprehensive "Traffic Generation" ebook ever produce on the net.
No doubt you've put in great efforts with almost every imaginable web promotion strategies being covered. I'm sure newbies and veterans alike will find Exposed! an extremely useful addition to their Internet Marketing Arsenals.
Keep up the great work!
Sincerely,
Marcus Yong
The Crazy Web Marketer
http://ViralReports.com
---
If only your book was available when I was starting out, I would've saved myself tons of heart ache, and endless trial and error lessons. Don't buy the book where the author claims 1,000,000 visitors to your website, because he teaches you spam techniques, and other FFA type strategies that simply do not work!

If you want real targeted traffic to your website, and you want a step-by-step process to follow, then Richard's Traffic Exposed book is what you need to follow RIGHT NOW!

Congratulations Richard on a superb product, and a great service you are providing us all.

Your Partner,

Carlos Garcia
"Wealthy Secrets" Founder
http://www.wealthysecrets.net
---
You've put together an extremely useful and unique guide targeted to the ultimate quest for traffic generation...it's an excellent resource for anyone looking to getting tons of traffic! (and who doesn't want them?)

You've basically covered *everything* here, and after reading this, nobody will have to complain about lack of traffic - they'd be too flooded with it to have the time!

Regards,
Ewen Chia
http://www.InternetCashStreams.com
---
Your book, EXPOSED! '101 Proven Strategies To Get More Visitors To Your Website In One Day Than Most Websites Get In A Year' is a killer for those needing traffic. I wished I had it six years ago when I started my online business. Great work!

Vern Anderson
http://www.newsyouneed.us
---
This book gives a splendid overview of the various traffic-generating tools. It is like a map, showing you the main directions to go - enough to ensure you reach your destination.
But remember: Having a map is not the same as actually getting there. Internet is the biggest "city" in the world! Before you lies a lot of challenges.
If you stick to Mr. Quek's advice and take one step at a time (starting with the Top 12 strategies), as well as invest sufficient time and energy, additional studies, testing and appropriate action you will indeed achieve a lot of traffic to your website.
I wish you all the best
Halina Goldstein
www.key2yourheart.com
---
In this ocean of vast virtual information and ebooks, once in awhile a jewel surfaces. This is ONE of the jewels! What a great up-to-date collection of practical, doable and results-orientated weath of gems from Richard!
There is no doubt that THIS eBook "Exposed! 101 Proven Strategies To Get More Visitors To Your Web Site In One Day Than Most Web Sites Get In A Year" is an essential tool for those who are serious in generating traffic on the internet. Whether you are an up and coming internet marketer or a veteran on the world wide web, Richard's eBook will open up more doors and windows in exposing your websites and propel your stats counter to greater heights!
I highly recommend it! You will certainly do yourself injustice without this!"

HupS E.
http://www.MoneyMachineBiz.com
---
I've finished reading you new ebook and I must say it's one of the best and most complete guide I've read on the topic of 'Traffic Generation'.

You've covered so many different techniques - and I'm pleasantly surprised to find so many little known websites which could bring in real huge amount of traffic.

Thanks Richard for such resourceful guide. I'm impressed!

June Yeap
http://www.instantebizsaver.com
---
Richard's eBook is really a vast traffic generating system. The techniques revealed are so valuable that you simply can't miss if you're serious about driving tons of traffic to your site. Awesome resource.

Jean Lam
Editor/Publisher "Web Biz Secrets"
http://www.zineguru.com
---
"One of the biggest problem that a online marketer face is how to get targeted people to visit their site. A few years ago, I attended an Internet marketing seminar and I was amazed to learn that there are so many techniques. It would have otherwise taken me a lot longer to unearth these techniques.

Richard's latest ebook 'Exposed' does the same thing. If you are still figuring how to get people to your site, read the book. The answers are all there.

Kong Hon
Learn Feng Shui Here
http://www.absolutelyfengshui.com
---
Richard, you have certainly 'run the gamut' when it comes to the myriad
ways of generating website traffic. From the 'mundane' to the truly
unique, there's a traffic exposure technique for anyone and for any
budget. I've read tens of ebooks on many aspects of online marketing,
including traffic generation, and still I found some new techniques
thanks to your e-book! From the 50% More Traffic idea to your Membership site suggestion to the Tools and yes, even Offline ideas, you've given new life to my traffic strategies. Hat's off to you for a job well done!


God Bless You, Richard!

Seeking YOUR Success,

Steve Boutelle

http://prosperityunleashed.com
---
Mr. Quek has done it again. He shares his knowledge and experiences without any reservation whatsoever that it makes this e-book a fantastic read. The author begins by making an apology for grammatical errors and typos. This underlying humility is what is most prominent in the entire e-book. The chapters and paragraphs are short and indeed the language used is simple enough for a newbie to understand.

I have already bought and studied Mr. Quek's previous book entitled The Internet Money Machine. It was my one conclusive reference book when setting up my very own websites. Exposed, complements the former and indeed together they make one comprehensive bible for anyone at all who would like to succeed on the internet.

Mr. Quek, Bravo for being so generous in sharing your knowledge. Thank you and this book must be marketed to all an sundry. No person should set up website without it!!

ANEETA SUNDARARAJ
Author/Publisher
www.sensations.com.my
---
I loved your book! It was very inspiring. I was so tempted to try each idea as soon as I read it. But decided it was best to read the whole book first, then go back.

You have a lot of great new ideas, and even those that I did know about but never used, I am now also inspired to get to work on them.

I like how you get right to the point. I didn't have to read page after page until I got to the good stuff. The good stuff was all there, from start to finish.

It's a great resource, all there in one place at your fingertips. I will surely be going back to the book time and time again.

Another thing I would like to compliment you on is the format of your book. It was so easy to read. Very easy on the eyes.

I liked the spacing, your use of indents, bulleted lists, sub-headings, graphics. That was important to me as I read a lot of ebooks and no matter how interesting they may be, even with good eyesight it can be tiresome on the eyes. But, not your book, my eyes loved it!

I will definitely recommend your book to my website visitors.

Sincerely,

Sue Norrad
Everyday Business Online
http://everydaybusinessonline.com
---
This is the ebook you have been begging for. Finally! Someone who understands, not just what traffic methods work, but shows you how to do them.

If you buy only one ebook this year, you better make it this one. Richard really knows his stuff! Wish I had written it.

Jinger Jarrett
http://www.marketingforwriters.com
---
"I would have to say, for both the newbie and the seasoned website promoter, it is a very comprehensive checklist for website promotion. In the future, I will take a look at your table of contents everytime I launch a new website just to be sure I've used as many tools available to me for driving traffic."

Melody Campbell
The Small Business Guru
http://www.TheSmallBusinessGuru.com
---
I don't know about in Malaysia, but here in the U.S.A., we have a term that just about sums up how I felt when I started reading your new eBook, "EXPOSED ! 101 Proven Strategies To Get More Visitors To Your Website In One Day Than Most Websites Get In A Year" - - flabbergasted!
It's like the word, "amazed" - - but on steroids ! :)
Either you're a "driven" person, or you had an army of clones do all the work you've apparently done in compiling this amazing resource.
I have searched for this kind of information on the net for the better part of 5 years, and I soon hope to launch my first site to help newbies and affiliate marketers. Your resource "masterpiece" could have saved me hundreds, if not thousands, of hours if only I had had it then. - - I never realized there were so many ways to drive traffic to a website !
I can only hope that by using "some" of the methods you describe, my site will have at least a little of the success your sites have had ;)
Congratulations, Richard - - Well Done !

Your friend in Christ on the net,
Rev. Hal Humphries
...soon to be found at...
www.AffiliateLightning.com
---
OKAY! I give up....
---
Copyright 2016
EXPOSED!
No portion of this site may be reproduced in any way without express permission of the publisher.